Understand the past, know the future
Legacy to Digi – towards the future in a controlled and reliable manner
Flexible and agile services
Netum is a low-hierarchy organisation that draws on the extensive expertise of our staff to offer a wide range of services, from consulting to implementation. We respond to each customer's needs quickly and comprehensively, and combine services and offer customer-specific solutions.
Responsible digital development
Digital online services are becoming more and more common in companies and public administrations alike, and they make people's lives easier by making work more efficient. Pioneers in the IT world know that high-quality development in key business areas does not happen overnight. It requires a balanced approach, challenging current practices, and harnessing the latest technologies while also making the most of existing solutions.  Our core strength is our wide-ranging expertise, which we draw on to help our carry out digital development for our partners. Netum has its sights firmly set on being the most trusted digital partner in the industry.
An effective way to ensure successful digital transformation is to develop the new IT resource while taking the existing one into account. This idea is behind our Legacy to Digi philosophy. This approach embodies the way we help our public and corporate customers see their digitalisation transformation project through to the finish line in a controlled and reliable manner.

A trusted digital partner
Our experts have the know-how and experience to support your organisation at all stages of making your planned change a success. We work closely with our customers, and together we create more functional services. Read our customer testimonials to see how well we've done in helping them succeed!
Our service is ISO 27001 certified
Many of Netum's customers are in fields such as public health care, ICT and application services where they process critical, confidential information. To ensure and prove our skills in security, we have certified our activities in accordance with the internationally recognized information security management system standard ISO/IEC 27001. This provides Netum with a strong basis and a comprehensive framework for managing other models of information security requirements, such as the security levels of the Finnish government and Katakri, the information security audit tool.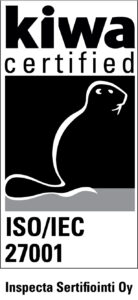 Examples of technologies we use
Integrations
Axway B2Bi/API gateway, ArcESB, Azure Integration Services, BizTalk, Apache Camel, WSO2, Boomi, Mirth Connect, TradeXpress and InterSystems IRIS
Robotics
Automation Anywhere, UiPath, OpenRPA
Application development and programming
C#, React, JQuery, Node.js, Java, MySQL, MSSQL, OracleSQL
Monitoring
Elastic Stack, Grafana, Agemon
Cloud platforms and applications
SalesForce, Netsuite, M2, J.D. Edwards, SAP R/3, MS Navision, Procountor and Visma Severa and Netvisor.
Reporting
Microsoft Azure, Power BI