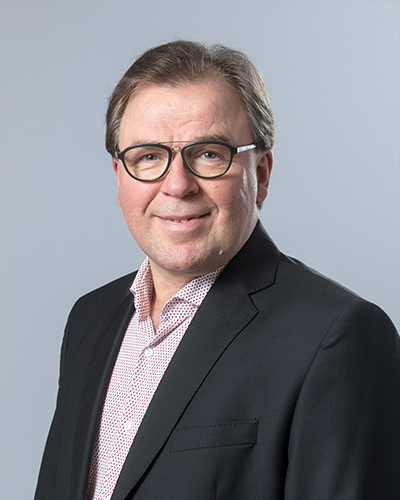 Matti Mujunen, CEO, in the financial statements release 2021:
"2021 was a year of significant events for Netum. Our listing on the First North marketplace in June and the acquisition of Cerion Solutions in October were major leaps in the implementation of our growth strategy. The six-year framework agreement signed with the KEHA Centre at the beginning of the year increased predictability and laid the foundation for strong business growth for years to come. It was also gratifying that the production of the first phase of the large-scale EURA 2021 project was successfully started in September.
Our revenue increased 28 per cent from previous year and was EUR 22.4 million. Our growth was boosted by an acquisition, but our organic growth was also stronger than expected, at 20 percent from the previous year. The corona pandemic caused the postponement of some projects, but the impact on full-year revenue remained limited. Our growth is driven by successful recruitment, successful new customer acquisition and high customer satisfaction. To meet the expected demand, we hired staff on a front-loaded basis. The rapid growth in the number of employees and the weaker-than-expected profitability of a fixed-price customer project slightly reduced our relative profitability, which, however, remained at a good level, exceeding our medium-term target.
In line with our strategy, we invested in developing our cyber security services business during 2021. We centralised our long-term security experience and expertise as a separate Cyber ​​Security Services business, and the unit's business development was excellent during the year. The need for cyber security services is increasing as digitalisation, cyber security threats and hacking become more widespread, and this area continues to have strong growth prospects.
During the spring, we prepared for our June IPO, which was even more successful than we expected. To support our growth, we raised gross assets of EUR 8 million. The listing also supported our strategic goals by increasing our reputation as an attractive employer and a responsible, competent IT service house. We acquired significant Finnish institutional investors as well as a pleasingly large number of private investors as our shareholders. In total, Netum acquired approximately 6,000 new owners. I am especially proud that our staff actively participated in the share issue.
In October, we acquired Cerion Solutions Oy, a specialist in knowledge management and digitalisation. With Cerion, we have become an even stronger player in knowledge management. The integration of Cerion Solutions is progressing according to plan and the collaboration has started well. We are pleased to say that our corporate culture and practices are even more in line than what we initially expected. With the acquisition of Cerion Solutions, our customer base expanded, especially with corporate and social and health services customers and we strengthened our foothold in the Turku economic area. The number of our personnel increased in 2021 by approximately 90 employees, 38 of whom came with the acquisition of Cerion Solutions. In the beginning of 2022, the number of our personnel has grown by 18 and was 235 on 8 March.
We want to be the preferred employer in our industry and provide a fair and pluralistic work community where employees feel good and prosper. We have succeeded for instance in creating remote working practices and conditions, and the work atmosphere has remained good in the midst of change. This is evidenced by our turnover rate, which in 2021 was 6.8%. Since 2017, we have conducted an annual survey for our personnel, which measures the meaningfulness of work and coping at work. Based on the survey, we have made improvements to our operations, and the effects are visible: the measurement results have improved every year, and in the 2021 survey, we got the best figures in the history of measurement. In 2021, we also were awarded with the Great Place to Work certification as a good employer.
In addition to a prospering and satisfied personnel, the responsibility program we launched last year also emphasises environmental friendliness, which we see in practice as the use of green electricity and prudential recycling of equipment. They are important ways for us to reduce the environmental impact of our own operations. Our commitment to sustainable practices is evidenced by the WWF's Green Office certificate, which we received for our Tampere's Yliopistonkatu office, and the certification work will continue in our other offices this year.
On March 8, 2022, we announced our new financial targets and updated growth strategy. By 2025, we aim for a turnover of EUR 50 million and an annual profitability of at least 14% (EBITA). Our strategy supports our goal of being the most trusted partner in our industry and the most desirable work community in responsible and secure digital change. We seek growth by continuing to invest in our core competencies, strengthening our brand and our work community. We are looking for further growth, especially in corporate customers, the expansion of our service offering and repeatable services, for example in connection with cyber security. We are expanding our operations regionally in Finland. Our SaaS products are the spearheads of our internationalisation, and we are exploring opportunities to expand our business to the Nordic and Baltic countries.
The 2022 outlook for the IT services market is positive. Various digitalisation projects continue, and new ones are being launched, and the importance of knowledge management and cyber security is growing all the time. Additionally, information system projects in the new wellbeing services counties will offer new growth opportunities Netum as well.
Russia's attack to Ukraine has created political and economic threats. If the crisis continues, it can have a strong impact on the global economy and, consequently, negative effects on the demand for our services.
The year 2021 laid a good foundation for continuing strong and profitable growth also in 2022. In January 2022, we opened a new office in Jyväskylä, Finland, where we see strong growth opportunities. We are exploring the possibility of expanding to other regional growth centres during this year. My warmest thanks for the past year to our committed personnel, to all our partners and customers, and to our investors."
***********************************************************************************************
On 2nd June 2021, in connection with the IPO and listing:
"When I joined Netum in 2016, I was instantly impressed by the personnel's strong professionalism and unwavering focus on customer service.
At that time, we were 50 people working at Netum. We have since then grown strongly, and today we are more than 160. For us at Netum, the customer is always number one, and we do our utmost for the customer. This is demonstrated in Netum's long-term customer relationships: our customers trust us, and they are very happy with our services.
We want to be the enabler of change and responsible digital transformation for our customers, the most trusted digital partner. Our responsible services are highlighted in socially significant projects where we help our customers to develop their operations through digitalisation and through focusing on digital security. Our business idea is to build new things by wisely utilising the customers' existing IT assets so that the solutions are sustainable, maintainable and cost efficient. We call this Legacy to Digi® – the concept and operational model of sustainable digitalisation whereupon all Netum's services are built.
Responsibility means to us also that we want to offer a fair and pluralistic working community to our employees. It is also important for us to grow the share of female employees despite the commonly known challenges in the industry. Above all, we aim to be the preferred employer in the IT industry, a top-notch working community where the employees prosper. We are proceeding quickly on this track: in the beginning of the year, we were granted the Great Place to Work certification. In the related employee survey, over 90 per cent of the personnel said that Netum as a whole is an excellent place to work.
Digital services are proliferating on all levels of the society both in public administration and in companies. This makes the services more user-friendly and easier to use. Digitalisation makes services more efficient and easier available and makes public administration overall lighter. The same goes for companies and us. Therefore, we constantly innovate and develop our own operations.
As the significance and amount of data grow with digitalisation, also the need for cyber security and data protection grows. We meet this challenge through strengthening and further developing our cyber security services that have been part of our service portfolio from the early days of the company. In addition to digital and cyber security services, we foresee that the need for data and analytics services will continue to grow. As our demand outlook is positive, we expect our revenue and operating profit to grow this year in comparison to the previous reporting period.
Netum has grown strongly and profitably in the last few years. We are now in such a phase in our implementing our strategy that listing in the First North marketplace is a natural step for us. It will support us in speeding up our growth both organically and through acquisitions. Digitalisation is a huge industrial change offering great opportunities.
Warmest thanks to all those who participated in Netumin public offering!"