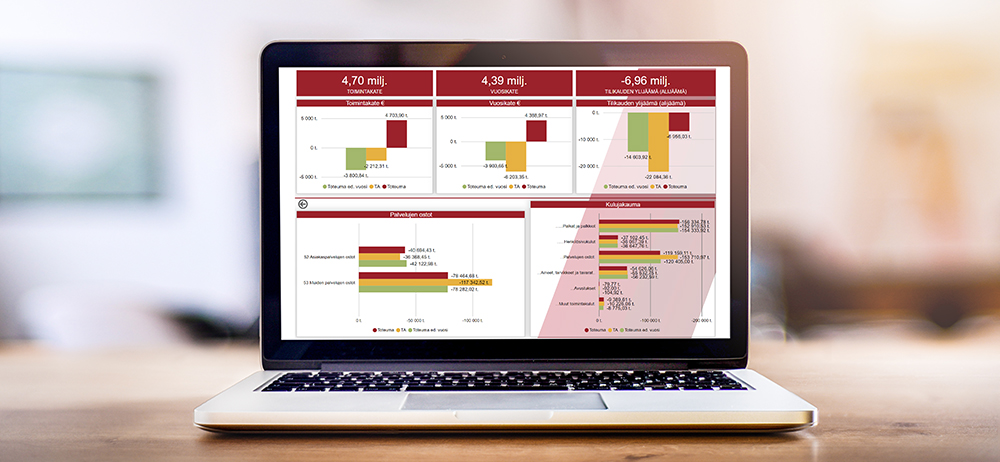 Monetra's agile MonetTieto introduces visual reports in public administration – the latest customers are the wellbeing services counties
MonetTieto is Monetra's financial and HR reporting solution also implemented by the Central Finland Health Care District. Starting its activities at the beginning of 2023, the wellbeing services county of Central Finland plans to use MonetTieto to meet the increasing knowledge management needs.
Monetra is an administrative management services group established by the cities of Oulu, Tampere, Kuopio, and Jyväskylä as well as the four healthcare districts of the regions. Dozens of customers from municipalities and cities to healthcare districts and regions manage their administration through Monetra, using services such as accounting, payroll, recruitment, and interpretation. The non-profit in-house company offers flexibility and synergy to its customers by providing centralised, one-stop-shop services.
Developed with Netum, the financial and HR reporting solution MonetTieto is one of Monetra's products. Operating on the cloud-based Microsoft Azure platform and used with Power BI tools, MonetTieto makes knowledge management modern and efficient. Some of the key benefits of MonetTieto for customers include ease of use, a visual approach, and agile technology. Kimmo Siponen, CDO at Monetra Group, emphasises the intuitive nature of the solution.
– This platform is truly designed for everyone. Before, customers were unable to browse the reports, and searching for information from various systems was unreasonably time-consuming. Now, MonetTieto enables practically anyone to quickly access visual reports, even if they aren't an expert with in-depth knowledge of accounting and information systems. Our customers benefit from needing nothing more than brief user training before they are able to use the solution, says Siponen.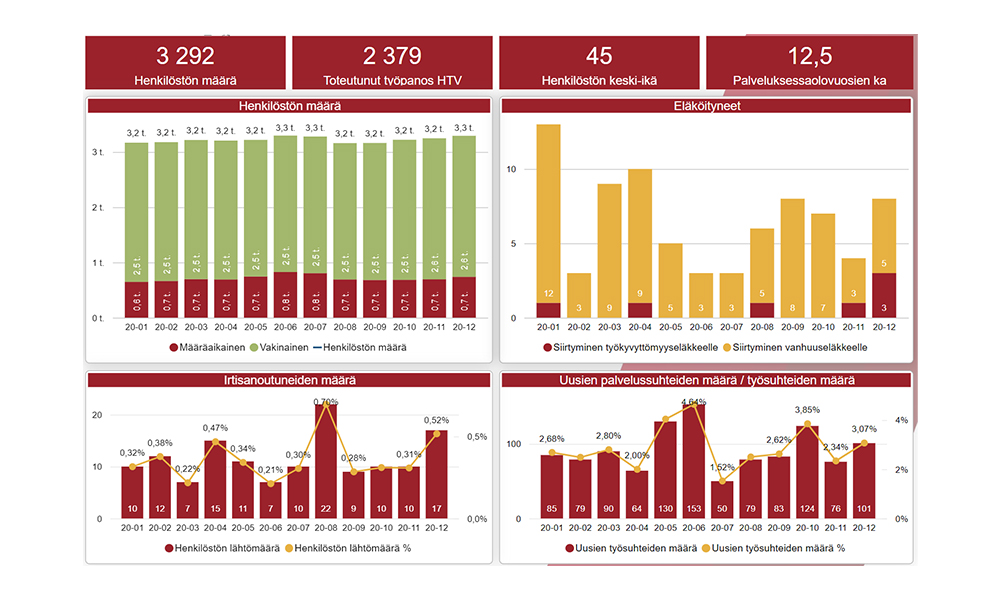 Monetra and Netum have cooperated for many years, and the deployment of MonetTieto has started to feel like a regular routine operation. Monetra's Product Manager Valtteri Palmu describes the roles between Monetra and Netum as straightforward and efficient.
– Netum is in charge of data storage, architecture, and data modelling, whereas Monetra created the visualisations. The partnership is both project-based and continuous; whenever a new customer deploys MonetTieto, Netum leads us in implementing a deployment project while also constantly improving the service, taking care of administration, and solving technical issues, says Palmu.
Central Finland Health Care District adopts modern reporting
The Jyväskylä-based Monetra Central Finland serves customers located in Central Finland. One of Monetra's most significant owner-customers, the Central Finland Health Care District, decided to deploy MonetTieto in 2021, and the financial and HR reporting solution was ready for deployment in February 2022. The end users of the product in the health care district include controllers, HR experts, and supervisors.
Eija Mäkelä, Application Specialist and Project Manager for the Netum cooperation at Monetra Central Finland, has received praise on MonetTieto from end users.
– The previous reporting system had simply reached the end of the road and was no longer able to serve our customer. The healthcare district has sent extremely positive feedback on the new solution. They consider the product user-friendly and appreciate the visual graphs that make the complex figures more understandable.
The new wellbeing services county of Central Finland, launching its activities in 2023, also plans to deploy MonetTieto after the great experiences of the healthcare district.
Wellbeing services counties and the need for knowledge management
The health and social services reform translates to more expansive reporting obligations and, as a result, a more integral role for knowledge management. The Central Finland Health Care District and some of the services of the City of Jyväskylä and the 22 municipalities in the region will merge into a completely new organisation. Mäkelä estimates that the new wellbeing services county will employ up to 400–600 supervisors, bringing hundreds of new users to MonetTieto. Fortunately, the current solution is perfectly able to accommodate an influx of new users.
– MonetTieto is so flexible that we won't have any trouble with the new reporting obligations.
Directing, analysing, monitoring, and predicting new activities means that the data must be in a usable format. Netum's Key Account Manager Patrik Uhinki believes that Netum's long experience with public administration customers and its status as a pioneer in increasing the level of knowledge management in the public sector inspires confidence in customers.
– As our technology is based on the databank automation of DSharp, it is extremely cost-effective. In principle, financial and HR reporting could be customised for each customer, but Monetra helps customers gain access to a state-of-the-art product much faster, explains Uhinki.
Monetra Central Finland is pleased with the cooperation with Netum. Mäkelä finds the communications particularly efficient. We are free to ask any questions, and the answers arrive quickly.
– We strongly feel like Netum genuinely listens to us. We are on the same wavelength, and we feel comfortable addressing any issues we might face,  says Mäkelä.