Digitalisaation suurimmat muutokset työelämälle ovat vielä edessä. Työn prosessit, kohtaamiset ja hallintointi helpottuvat sen ansiosta yhä enemmän. Ajan mukaisessa IT
‑varannossa järjestelmien teknisten ominaisuuksien ohella myös ihmisillä on suuri rooli – siksi Netum ja Innotiimi yhdistivät voimansa.
Ajanmukainen IT-varanto vaatii järjestelmien teknisten ominaisuuksien lisäksi organisaatioiden ihmisiltä kykyä käyttää näitä järjestelmiä. Netumin Legacy to Digi -konseptin keskiössä on ihminen: haluamme auttaa organisaatiotasi siirtymään hallitusti digiaikaan. Se vaatii myös psykologista silmää, sillä tietojärjestelmien uudistaminen on usein haastava asia henkilökunnalle.
Tästä syystä yhdistimme taitomme konsulttitiimi Innotiimi-ICG:n asiantuntijoiden kanssa. Yhdessä pystymme tarjoamaan yhä laajempaa tukea organisaatiollesi muutoksen läpiviemiseen. Innotiimi-ICG:n asiantuntijoilla on kokemusta siitä, kuinka muutosprosesseja kehitetään onnistuneesti koko organisaation voimin – toimitte sitten yksityisellä tai julkisella kentällä. Mutta mitä onnistunut muutos edellyttää, ja miksi muutoksen aallonharjalle on syytä hypätä mukaan?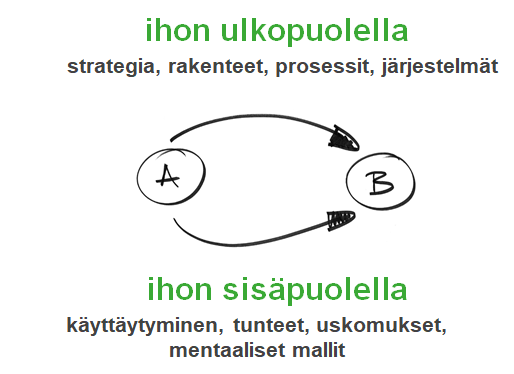 Kuva: Legacy to Digi -konseptin perusajatus
Kiinnitä huomiota myös organisaatiosi ihon alla piileviin tekijöihin
Onnistunut muutosprosessi edellyttää, että organisaatiossasi kiinnitetään huomiota sekä sen "ihon päällä" että "ihon alla" oleviin tekijöihin. Ihon päällä ovat organisaation ulospäin näkyvät tekijät: strategia, rakenteet, prosessit ja järjestelmät. Ihon alla puolestaan piilevät inhimilliset asiat: käyttäytyminen, tunteet, uskomukset ja mentaaliset mallit.

"Tulevaisuuden työelämä ja organisaatioiden arvontuotanto asiakkaille tulee nojautumaan vahvasti digitalisaation varaan"
Tulevaisuustutkija Ilkka Halava syksyllä 2019
Tutut tavat tehdä töitä, myydä ja markkinoida muuttuvat
Tulevaisuudessa esimerkiksi työtehtävissä ja asiakaspalvelussa pidetään yhteyttä ja tehdään kauppaa yhä enemmän sähköisten työkalujen avulla: sisäänkirjaumiset, sihteeripalvelut ja itseohjautuvat autot ovat vasta alkupaloja tulevasta.
Digitalisaatio muuttaa myös niitä tapoja ja työkaluja, joilla yritykset myyvät ja markkinoivat. Monet luotettavat elämäämme liittyvät transaktiot, datan analysointi ja markkinointi muuttuvat – todennäköisesti tavoilla, joita emme vielä edes osaa kuvitella. Ehkäpä käytettävän valuutan rinnalle tulee organisaatioiden sisäisiä valuuttoja - ja kaikkia näitä hoidetaan digitaalisin keinoin.
Digitalisaatio antaa organisaatiollesi aikaa luoda arvoa
Digitalisaatio auttaa organisaatioita kehittämään omaa arvontuotantoaan. Kun koneet huolehtivat rutiineista uupumatta ympäri vuorokauden ja viikosta toiseen, meidän ihmisten työaika vapautuu mielekkäämpiin työtehtäviin. Saamme enemmän aikaa ongelmanratkaisuun, tulevaisuuden rakentamiseen, yhteistyön ja suhteiden luomiseen sekä niiden kehittämiseen. Tämä on suuri mahdollisuus kaikille Suomessa toimiville organisaatioille julkisella ja yksityisellä sektorilla. Tämä on suuri mahdollisuus koko yhteiskunnallemme.
Autamme organisaatiotasi rakentamaan kestävää tulevaisuutta
Periaatteemme hankkeiden toteutukselle on kuunnella odotuksianne tarkalla korvalla, sillä haluamme auttaa organisaatiotanne pääsemään seuraavalle tasolle arvontuotantonne sekä digivarantonne osalta vastuullisesti. Uskomme, että yhä useammassa tulevassa projektissa voimme hyödyntää organisaationne nykyistä IT-varantoa alustana turvallisesti, kun rakennatte tulevaisuuden työelämää ja siirrytte uusiin palveluihin ja tekniikoihin.
Yhteisessä istunnossamme kuulisimme teidän tulevaisuuden toimintanne tavoitteita. Digitalisaation tehtävänä on auttaa teitä saavuttamaan nuo tavoitteet. Ammattilaisina me taas voisimme hahmottaa tarpeita toimintanne avuksi. Digikunnon kartoituksella voimme saada selville tilanteenne nyt. Tämän jälkeen on hyvä kokoontua yhteen ja tutkia, mitä täydennyksiä järjestelmänne mahdollisesti tarvitsevat tulevaisuuden tueksi.
Haluaisitko keskustella organisaatiosi digikunnosta? Sovitaan virtuaalitapaaminen!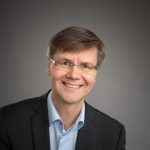 Jari Jokinen
puh. 0400 488 989
jari.jokinen(at)netum.fi

Innotiimi-ICG
Antti Hellström
puh. 050 516 0307
antti.hellstrom(at)innotiimi-icg.com
www.innotiimi-icg.fi