Strategia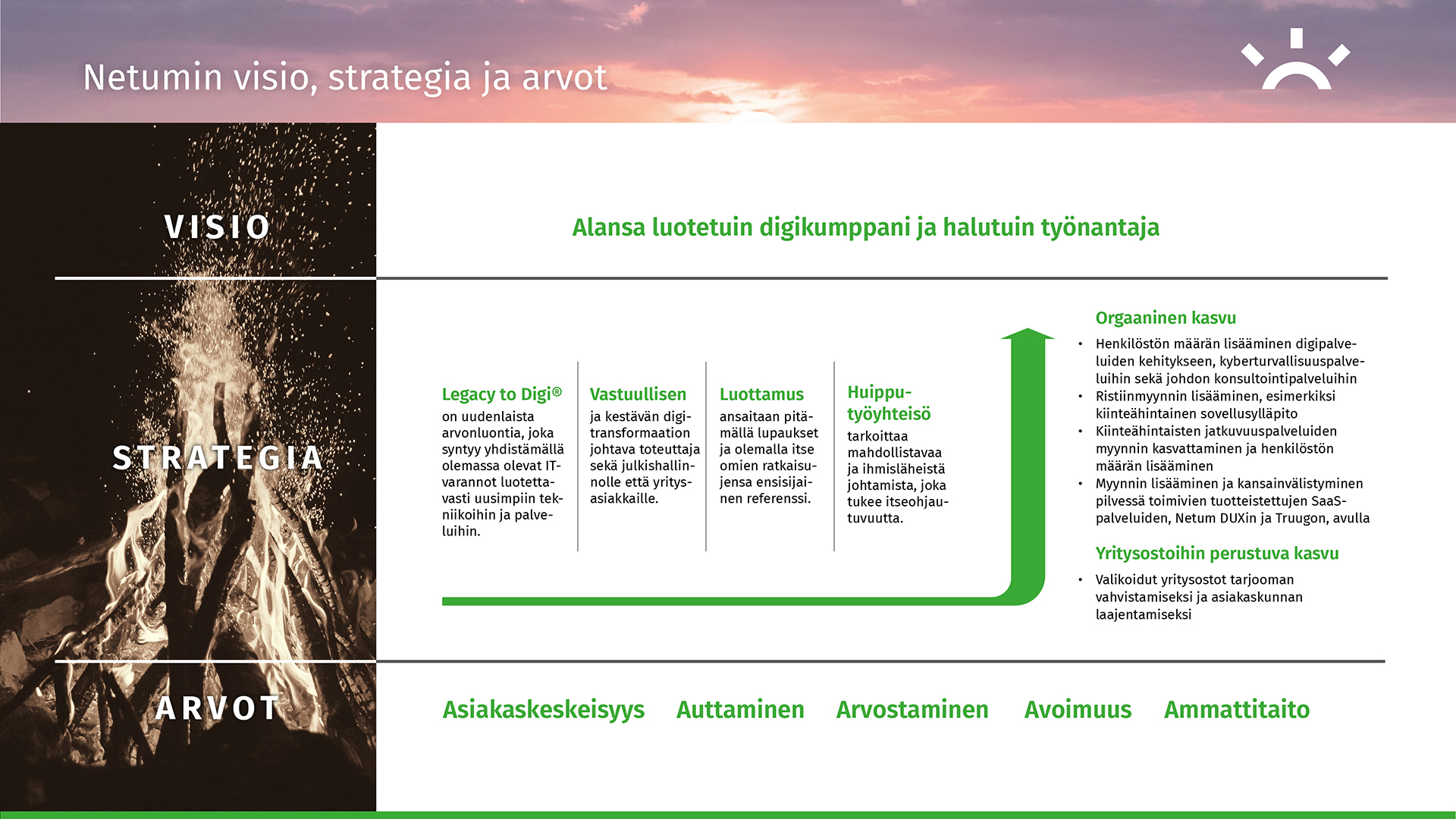 Netum auttaa asiakkaitaan kehittämään digitaalista liiketoimintaa vastuullisesti ja turvallisesti. Netum yhdistää Legacy to Digi® -konseptinsa mukaisesti käyttökelpoisen olemassa olevan IT-varannon luotettavasti uusimpiin tekniikoihin ja palveluihin tuoden lisäarvoa aiemmille investoinneille sekä välttäen työn ja ajan hukkaa.
Netum pyrkii jatkamaan kannattavalla kasvu-urallaan orgaanisen kasvun avulla, minkä lisäksi yhtiö kartoittaa aktiivisesti epäorgaanisen kasvun mahdollisuuksia, ja sen tavoitteena on tehdä valikoidusti yritysostoja.
Orgaaninen kasvu
Henkilöstön määrän lisääminen digipalveluiden kehitykseen, kyberturvallisuuspalveluihin sekä johdon konsultointipalveluihin
Ristiinmyynnin lisääminen, esimerkiksi kiinteähintainen sovellusylläpito
Kiinteähintaisten jatkuvuuspalveluiden myynnin kasvattaminen ja henkilöstön määrän lisääminen

M

yynnin lisääminen 

ja kansainvälistyminen pilvessä toimivien tuotteistettujen Saas-palveluiden kuten Netum DUXin ja Truugon avulla
Yritysostoihin perustuva kasvu
Valikoidut yritysostot tarjooman ja resurssien vahvistamiseksi sekä asiakaskunnan laajentamiseksi
Netumin tavoitteena on olla alansa luotetuin digikumppani ja halutuin työnantaja.
Legacy to Digi® on uudenlaista arvonluontia yhdistämällä olemassa olevat IT-varannot luotettavasti uusimpiin tekniikoihin ja palveluihin.
Vastuullisen ja kestävän digitransformaation johtava toteuttaja sekä julkishallinnolle että yritysasiakkaille.
Luottamus ansaitaan pitämällä lupaukset ja olemalla itse omien ratkaisujensa ensisijainen referenssi.
Huipputyöyhteisö tarkoittaa mahdollistavaa ja ihmisläheistä johtamista, joka tukee itseohjautuvuutta.
Kansainvälistyminen tapahtuu tuotteistettujen pilvipalveluiden kuten Netum DUXin ja Truugon avulla.
Osakekurssi: